Since 2004, Perez Hilton has been informing us about the famous, and the infamous on his Web site, PerezHilton.com. But, can we believe everything we read and see? Whether it's Tom Cruise or Barack ObamaHilton always keeps it entertaining. Most of us rely on the Internet for the latest updates, and since 2005, PerezHilton.com has been a one-stop shop for all the latest news and gossip updates.
Perez Hilton, born Mario Armando Lavandeira Jr., has vowed to bring the truth. The self-proclaimed Queen of Media does just that, while putting his two cents in. Read more
It's not easy being only 22 years old, having a hit TV show, a fashion line, and millions of girls screaming your name–just ask Lauren Conrad.  
BOSTON–The screams echo throughout the luxurious high-ceilinged foyer. Girls populate every visible corner, dancing and moving to the rhythm, together forming a blur of tiny black dresses and silk tops, lost in the music. It is Saturday night, Nov. 15, at The Estate, an elite and upper class club.
I can feel the excitement and anxiety in the air as hundreds of girls anxiously watch the stage waiting for the show to begin. Lauren Conrad's newest line of clothing was to premiere at 9 p.m.
But perhaps the audience is not just hoping for the show to start, but also to catch a glimpse of Conrad, the biggest "it" girl in entertainment today. Read more
Daniel Craig hit theaters Nov. 14, 2008, reprising his role in the reboot of the famous 007 series, topping box offices and becoming the highest grossing opening night film in November and the highest grossing Bond film ever.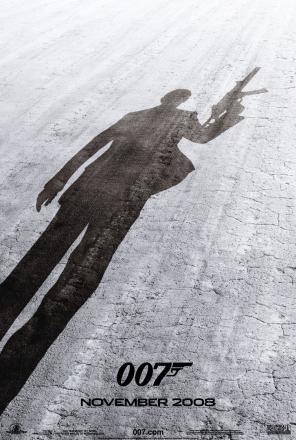 "Casino Royale" was seen as a huge success in the Bond series, the 22nd film marked the reboot of the 007 franchise, with new cast members and new story lines, literally starting the story line from scratch.
"Quantum of Solace" is a direct sequel to "Casino Royale," starting one hour after where the last movie left off. Bond has just captured Mr. White and is in a car chase to get him into the safety of MI6, the British secret service.
White confesses about a secret organization called Quantum that backed "Casino Royale's" villain, Le Chiffre, and that eventually leads to the death of Bond's love, Vesper Lynd.
Blizzard Entertainment released its third installment to the "World of Warcraft" video game series with the expansion, "Wrath of the Lich King," Nov. 13, 2008. The highly anticipated Massive Multiplayer Online Role Playing Game, or MMORPG, is based on traveling to the new land of Northrend to defeat the evil Lich King.
A Massive Multiplayer Online Role Playing Game like "World of Warcraft" is more of a community than a game. Based on teamwork in an open area where all players can interact socially, it is its own little world.
The "World of Warcraft" series has been seen as the highlight of this genre for many years due to its constantly changing world and additions that keep players entertained.
Even though the last expansion to the game, "The Burning Crusade," was seen as a let-down to veteran players because the new content made the game too easy, Blizzard managed to boost the player base from eight million to 12 million in its two-year span by attracting new players.
BOSTON–Filming coast to coast, the Bravo network is back again with the reality hit series "Real Housewives," featuring popular women with money. The reality-soap franchise has traveled from Orange County to the Big Apple and is now introducing the Georgia Peaches, in its new show "The Real Housewives of Atlanta."
The original series concentrates on five women living behind their gated community in Orange County, Calif.; these women are cougars and provide viewers with insight into their wealthy lives as housewives. The women show the reality of their tasks of parenting, their highfalutin lifestyles, and maintaining their own girlhood.
The second installment features the elite, living-the-fast-life, hard-shell-networking women of New York City. This series can be critiqued as a copy cat episode of "Sex and the City." "Sex and the City" portrays women living in New York City, and their mission to find love and buy high-end labels. Some of the housewives of New York have found love but all of these five women are into buying the labels. This series shows the lives as they manage their careers and busy schedules with fundraising galas, and live the social life of the rich and famous. These driven women show that money and status are a necessity of life.
BOSTON–Lights, Camera, Action. It's not Beyonce Knowles; it's her onstage alter-ego, Sasha Fierce. Knowles adopted the name Sasha Fierce when she is onstage in the spotlight.
Knowles is known as an icon, an R&B queen, and the wife of Hip Hop mogul Jay-Z, who also holds the nickname HOV.
For the past year, since Knowles revealed her third solo album I am … Sasha Fierce, the media and fans have questioned who is Sasha Fierce? Why did Beyonce decide to create a double-life concept album?
Knowles' offstage persona is more difficult to distinguish. Fierce isn't personable and is never present to do interviews. Fierce is aggressive, outspoken, unafraid, and daring. She is described as an alley cat at night.
BOSTON—Suffolk University students recently attended the Kenyan Orphan Benefit Concert, a show in which three local bands played original music to raise money for a good cause. The concert was held in the Donahue Café on Thursday, Nov. 20 from 7 – 10 p.m. and had a turnout of more than 40 guests.
The Kenyan Orphan Benefit Concert was put together by Suffolk alumna Kelly Bates, who has visited Kenya three times to help the children. She is involved with the Bright Futures Foundation, a non-profit organization that supports developing countries by helping citizens obtain healthcare and education.
Bates works with a chapter of the Bright Futures Foundation to provide orphaned children in Kenya with necessary items that benefit both their health and schooling. It also raises money to establish living corridors and schoolhouses for the children. Read more
BOSTON — Stephanie Meyer's novel, Twilight, came to theatres everywhere on Nov. 21, a long-awaited date according to several readers.  Books turned into movies are generally different from one another, and viewers had much to report on their findings.
Twilight is a story about a girl, Bella, moving to live with her father in one of the rainiest towns in all of the U.S.  An adopted family of vampires resides in this town, trying to mainstream into everyday life as "normal" people.  The two main characters Edward (a vampire), and Bella fall in love with each other and struggle to make their relationship work as two different beings.  It is in Edward's main interest to protect Bella, which deems to be fairly difficult, as Bella constantly gets herself into trouble. Read more
ALLSTON, Mass. – Just steps away from Boston University's campus, hookah bar Nile Lounge is the newest hot-spot for Boston's 250,000 college students.
Located just over the Allston-Boston border at 70 Brighton Ave., Nile Lounge is a hip, fun, and low-key destination for people of all ages. As the weather gets colder, students are eager to find indoor destinations which cater to thier needs and budgets. Nile Lounge is definately that place, where anyone can be entertained for hours without spending money, and still bond with friends. Contrasted to typical nights out at bars, restaurants, and clubs, it is amazing that hookah lounges did not become popular earlier. Read more
BOSTON–Where can you find the best oysters and clam chowder in Boston? That's easy. Union Oyster House restaurant! For those of you not familiar with Boston, Union Oyster House is located downtown in Fanuiel Hall. It is the oldest restaurant in Boston and the oldest operating restaurant in the United States, serving diners since 1892. Read more
HARTFORD, Conn.–Suffolk University's Program Council spent last weekend at the National Association for Campus Activities regional conference (NACA) held at the Connecticut Convention Center.  Campus activity groups from hundreds of universities all across New England attended the conference to gain ideas and opportunities for booking entertainers to come to their schools.
Students gathered in a comfortable, enjoyable atmosphere to learn from each other, meet new friends from other schools and grow deeper bonds with their fellow students.  Musicians, spoken word artists, comedians, magicians, celebrities, lecturers and more had the opportunity to showcase their talents for the students attending. Read more
BOSTON–Every 10 years, a new phenomenon sweeps across the nation. There were pet rocks in the 70s, leg warmers in the 80s and fanny packs in the 90s. The millennium is no exception. The new obsession of kids and adults alike is a series of books, specifically the Twilight saga written by Stephanie Meyer.
Twilight is Meyer's first book and it was unexpected that the book series would have a real impact on society. The Twilight books follow the characters of Bella Swan and Edward Cullen through a tumultuous love story. Essentially their story is not so different from hundreds of others that have been written: boy meets girl, boy falls for girl, drama ensues. Read more
BOSTON — Somewhere in a log cabin in the southwestern part of this country, a strange old man sat down and dreamed up a tale to tell. He wasn't quite looking for inspiration but rather letting the inspiration find him and through this odd process of subconscious unearthing, Cormac McCarthy discovered The Road. It's a simple story; in an ambiguously decrepit world a man and a boy go on a journey to find a safe haven. Their resources are scarce, their vigor is fading and of the few people they encounter, the only ones they can trust are each other. Read more
BOSTON–When three musicians from the University of Massachusetts, Amherst started playing music together five years ago, not one of them would have guessed they would come this far. Playing sold-out shows and seeing their names in the bright lights was always something they had dreamed of, but was never guaranteed.
The band members include Stephen Kellogg (lead vocals-guitar), Brian "Boots " Factor (drums-vocals), and Keith "Kit " Karlson (piano-bass-vocals). Each member of the group brings his own distinct personality; Kellogg with his witty humor, Factor with his ability to quote any movie made in the past 10 years at the drop of a dime, and Karlson with his jaw dropping dance routines.
BOSTON – Ben Folds shocked die-hard fans Friday night when he opened his show with a disclaimer – "None of you have heard any of these songs before."
The fans crowded into the Orpheum were confused. Arriving at the Boston, Mass., theatre that evening, we were all expecting to hear songs from Folds' new album, Way to Normal, which had been leaked onto the Internet three months prior to the artist's fall tour. Instead, we were informed by the cheeky pianist and songwriter that everything we had heard online from the previously unreleased album had been a joke – fake versions of real songs. The band had recorded the fake album while bored one night in Dublin, and then 'anonymously' leaked it onto the Internet as a joke to fans.
Read more
BOSTON — It was dark out when Keith Goodwin's career was on the line. Growing up in a business where record labels signed and abandoned him several times, life had spun full circle again.
With the new formation of his band Good Old War, Goodwin controlled the stage with an authoritative presence. His modest personality caused his voice to quiver over the amplifier. He picked up his guitar, rested it on his right leg and bellowed a loud note. The crowd was silent. Everyone was paying attention. Fan approval meant life or death for Goodwin and his new project. Read more
BOSTON — The music industry isn't an easy industry to break into. It takes time, money, and pure determination for any artists to make their mark. Trying to make this mark is Matt Lowell and his band. But with a new four-song EP due out this summer, the band hopes to make an impact.
The band consists of Matt Lowell on lead vocals and guitar, Sam Wagner on drums, Garret Lynch on bass and Mark Cocheo on guitar. These four artists go under the name of Matt Lowell. Read more
BRIGHTON, Mass. — After five years of making music, The Wandas recently took their musical career to the next level. Over a span of two days, the four band mates worked together to create their very own music video for their latest single, 'Thank You Note.'
The upbeat lyrics describe how the band received family, friends and new people into their Brighton home. Keith McEachern, Brent Battery, Pete McElholm and Ross Lucivero welcomed anyone and everyone into their home to take part in their debut music video.
As soon as I walked in the door I was warmly welcomed by McElhom, the band's lively drummer. Though I only came to cover the shoot, he convinced me to be an extra in the video along with 100 others. Read more
BOSTON — The 7th annual Bonnaroo Music & Arts Festival will take place June 12-15, 2008 in Coffee County, Tenn. The festival, held on a 700-acre farm, is presented by Superfly Productions and AC Entertainment. Along with its wide-range of musical performances, this year's Bonnaroo contains many extra activities to keep the attention of any wandering hippie. Read more
BOSTON — The year was 1968. The Vietnam War was in full swing, along with an emerging American culture built on the principles of love, peace, and political protest. This culture was defined by a radical group known as hippies; their hair was long, their clothes were tie-dyed iridescent shades of the rainbow, and their symbol was the peace sign.
The movement spread world-wide, but was most active in large cities such as New York. Within this innovative society in New York City's East Greenwich Village, the story of HAIR: the American Tribal Love-Rock Musical unfolded. Read more
BRIGHTON, Mass. — Just three years ago, The Wandas completed their band with the addition of a permanent bassist. Two albums and countless shows later, the guys have managed to become a local success in both the Boston and Worcester areas. With a new music video under their belt, they see it only as the beginning.
It all began five years ago when high school buddies Keith McEachern and Pete McElholm met Brent Battery at the Berklee College of Music in Boston. There, the three music buffs joined forces to create the beginning of The Wandas band. Read more
BOSTON — Most know Ruthie Alcaide from MTV's Real World: Hawaii as the binge drinking, trouble-making Filipino, but most are unaware of the woman behind the televised persona.
Alcaide, 21, is currently on MTV's College Road Trip, sharing her experiences behind the scenes on the Real World to teach young adults about the entertainment industry, prejudice, drug/alcohol awareness, diversity, sexuality, and racism. As part of this tour, Alcaide visited Suffolk University on Tuesday, March 25 and gave a presentation, "Discussing Diversity with Ruthie" to support the university's 'Unity Week.' Nearly 30 students came to the Donahue Café to hear her speak. Read more
BOSTON — Randall 'Randy' Preston is known for being a quirky and laid-back guitarist, but his relaxed persona does not match his wild lifestyle.
Preston's friends describe him as an original and down-to-earth guy with a huge heart. "Randy has always been eccentric. He marches to his own drum, but everyone loves him for being just like that.
"He's unique, and in today's world, that's special," said close friend, Samantha Boyd. Born in Wall, New Jersey, the 19-year-old prodigy has big dreams for his future. His dreams are not stinted by his staggering height of 5'4. Read more